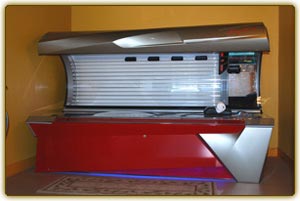 The Ergoline Advantage 400
Room 1
The Advantage 400 ensures the highest tanning results with a perfect combination of 3 VIT Max high-pressure facials, 40 Turbo Power tanning lamps and a reflex neck tanner. In addition, it features a relaxing Bodyform Plus base acrylic with integrated headrest. Its Comfort Cooling ventilation, with cool air coming from facial and body zone outlets, is infinitely variable and keeps clients feeling fresh during the tanning session. Another enjoyable feature in the Advantage 400 is an audio system that offers perfectly reproduced stereo sound.
---
The Ergoline Ambition 250
Rooms 2, 3 & 6
Engineered with perfect results in mind, the Ambition 250 – with its combination of Super Power UV lamps and high-pressure facials – is loaded with tanning power to spare. Keeping clients cool and comfortable with all this power is a large, yet quiet, rotary foot fan. The Ambition 250's comfort as well as its tanning results benefit from the Body Curve extended tanning surface. It softly supports customers while positioning them perfectly for an even distribution of UV light.
---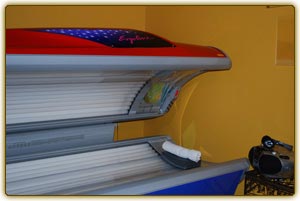 The Ergoline Ambition 300
Room 4
The strength of the Ambition 300 is apparent by its use of 40 Genesis technology Turbo and Super Power lamps, high-pressure facial tanners and extended tanning surface. The large rotary fan is quiet, yet it sends a refreshing stream of cool air to produce a pleasant tanning environment. Tanning clients are kept at the perfect temperature so they don't lose their cool. Continuing the Ambition 300's comfort is its perfectly shaped acrylic. The Body Curve acrylic's extended tanning surface positions the tanner for an even distribution of UV light and makes it as comfortable as a much larger sunbed. All the power in the Ambition 300 is easy to control thanks to the easy-to-understand and well-placed buttons.
---
The Genesis Radius
Room 5
Some busy customers will always prefer a stand-up tanning unit. The Sundash 252 Radius delivers a beautifully even, full-body tan in a 12-minute exposure schedule for tanners who are on the go.
Photometrically engineered to provide a flowing, open-air tanning environment, the Sundash 252 Radius easily accommodates all of your tanning preferences. Now, even the tallest tanning customer can get an evenly balanced tan from head to toe. With over 6.5 feet of tanning power, the Sundash 252 Radius is equipped with 52 extra-long, 2-meter SHO-RUVA tanning lamps.
The 1,600 CFM (cubic feet per minute) Transflow ceiling fan maintains the tanning environment at an optimum temperature for maximum comfort. Additional 110 CFM fans, located in each of the four lamp panels, separately cool the internal components including the lamps and ballasts.